Knitted Mesh Filter and Compressed Knitted Mesh Filter
Knitted wire mesh filter, also known as knitted wire mesh gasket, is mainly manufactured of either crochet or knitting of various materials including stainless steel wire mesh, tinned copper mesh, aluminum mesh, etc. At last, they are pressed into different shapes by machine, for instance round, square, cylindrical and gasket. Due to its raw materials and advanced production technologies, this kind of filter features good corrosion resistance to withstand extreme environment and is tough enough with high tensile strength. Knitted wire mesh filters also will not fail in the high temperatures and can be supplied in any sizes and shapes to meet each customer's demand.
Specification
Material: 304, 316 stainless steel mesh, brass wire and copper wire, monel wire, nickel wire, and alloy wire, etc.
Shape: round, square, cylindrical and gasket.
Sizes: We can produce various wire mesh filter according to customers' demand.
KMF-01: Knitted wire mesh filter made of stainless steel material.
KMF-02: Knitted wire mesh filter made of compressed wire mesh.
KMF-03: Knitted wire mesh filter can be made in different shapes.
KMF-04: Knitted wire mesh filter in round shape.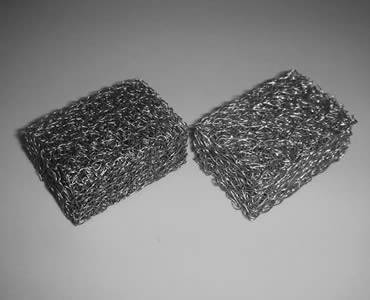 KMF-05: Knitted wire mesh filter in square shape.
KMF-06: Knitted wire mesh filter in cylindrical shape.
KMF-07: Knitted wire mesh filter made of no compressed wire mesh.
KMF-08: Wire mesh can be compressed into varying shapes to form various kinds of knitted wire mesh filters.
All the knitted wire mesh filters produced by automated machine.
The machine can ensure the accuracy of the knitted wire mesh filter.
Features
Excellent filtration capability.
Rigid and high strength.
Low cost manufacture using advanced knitting machine.
Available in various shapes, round, cylindrical or rectangular, etc.
Able to withstand very extreme shock loading.
Easy to clean and long replacement cycle.
Made of metal materials for high efficient heat conduction.
Application
The compressed knitted wire mesh filters are able to reduce vibration, attenuate sound and dissipate heat. So it is available in cars and tractors, light industry, chemical industry, automobiles and tractors to delete the particles and liquid foam in air. It also can be used in airbag inflator systems, using the compressed uniform knitted wire mesh elements to trap particles from the propellant and to cool the expanding gas.
Inquiry for Our Product
When you contact us, please provide your detail requirements.
That will help us give you a valid quotation.